Release Notes Through 2023-11-09
Overview
Cyber Risk Dashboard Updates
Liongard has enhanced the Cyber Risk Dashboard to include even more valuable insights for essential cyber insurance-related configurations, including Email Security, Domain & Website Security, and Endpoint Server & Workstation information.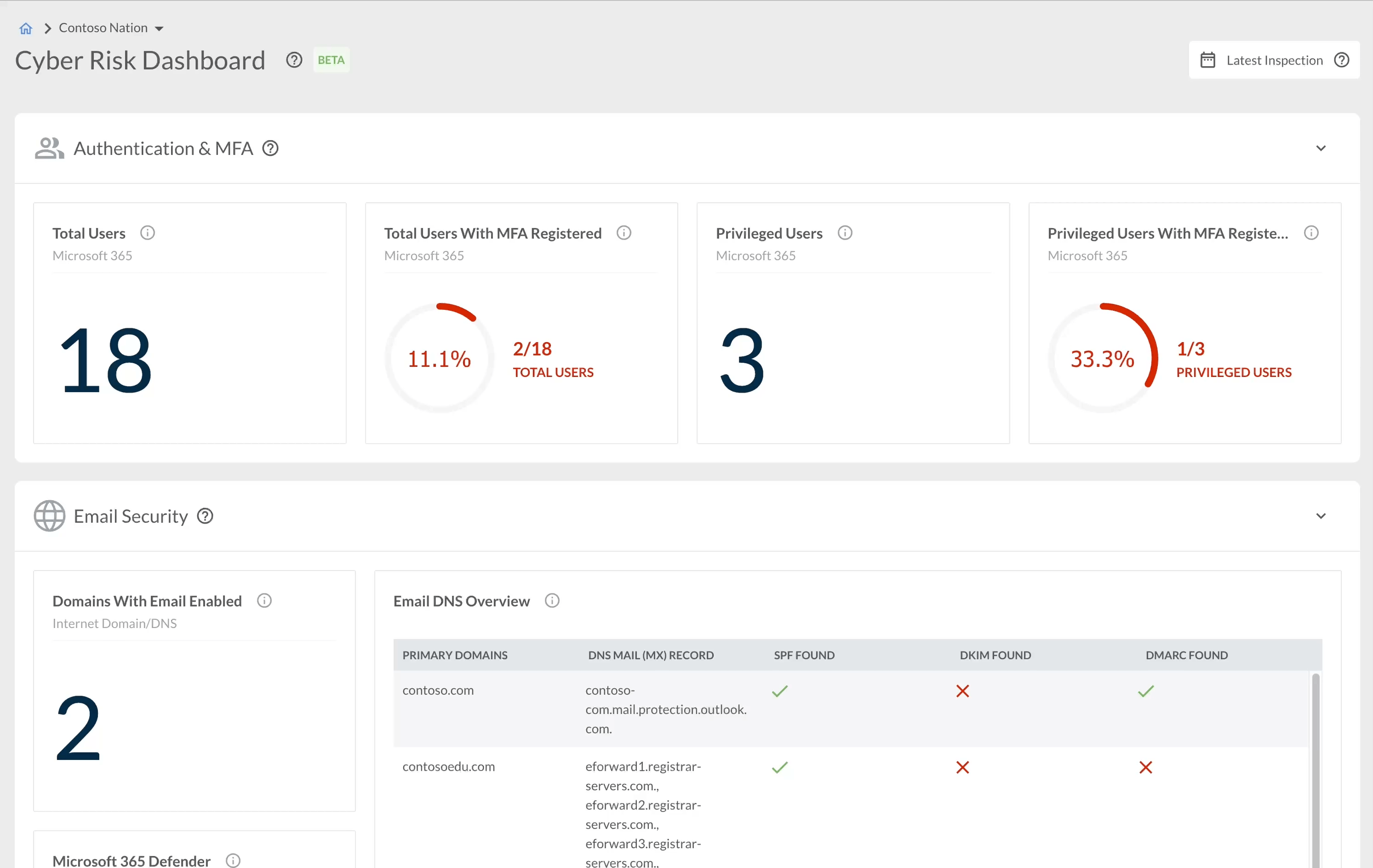 Liongard's Cyber Risk dashboard provides at-a-glance visibility to the essential cyber risk indicators for a client's environment, enabling you to ensure continued compliance with security frameworks and cyber insurance requirements.
To access the Cyber Risk Dashboard, navigate to an Environment's Single Environment Dashboard and select Cyber Risk Dashboard on the left-hand menu.
For more detailed information on this dashboard, please reference our documentation.
macOS Agent and Inspector Enhancements
We are thrilled to announce a significant enhancement to Liongard's macOS Inspector, introducing new data points that empower your IT management with comprehensive insights.
With these new data points, you can get a holistic view of your macOS security with detailed information about third-party antivirus and endpoint detection and response (EDR) solutions. Our latest improvements provide a deeper understanding of your macOS environment, ensuring your systems are secure and compliant.
For a full, detailed list of all new data points, please visit our Endpoint System Inspector details page.
The macOS Inspector is currently in Beta, allowing you to explore its capabilities and provide feedback. During this beta period, usage of the macOS Inspector is free of charge. Please be aware that once the macOS Inspector progresses toward its Production release, it will be billed per unit according to your agreement with Liongard.
New Integration: Rewst
Rewst's Robotic Process Automation platform has built an integration with Liongard, allowing your team to perform specific repetitive or time-sensitive tasks on behalf of IT Service engineers.
Partners can trigger actions and responses using Rewst workflows (crates) based on Liongard metrics or simply use the automation to call any of Liongard's API endpoints to manage and maintain their instance. In addition, Rewst includes user, environment, and system/inspector CRUD functions.
Please visit Rewst's integration documentation for details on how to set up this integration.
Minor Updates and Bug Fixes
Fixed an issue with missing ConnectWise configurations, causing links in alerts not to be set
Fixed a bug that was preventing Environment Administrators from assigning Inspectors to the Liongard On-Demand Agent
Improved the efficiency of our database queries when sending commands to self-managed agents for faster processing times
Corrected the metric queries for the "Windows Workstation: All Drives Encrypted" and "Windows Server: All Drives Encrypted" metrics.
Fixed the tooltip when creating a new Report
Inspector, Agents, and API Minor Updates and Bug Fixes
Agents

Resolved an issue preventing partners from renaming an agent to use a deleted agent's name

Addigy

Resolved issue that caused inspectors to fail with the message "Error: Cannot find module '/inspector/lib/index.js'"

Cisco Umbrella

Corrected an issue that resulted in rediscovered child Inspectors

Datto

Fixed an issue that caused inspectors to fail with the error "Cannot create property 'uid_r' on string"

GoDaddy

Fixed an issue that was resulting in GoDaddy Inspector timeouts

macOS

Fixed an issue causing global agents to show as unconfigured

Windows Workstation

Fixed an issue in the Windows Workstation Inspector, preventing group members from coming back successfully

Windows Server

Resolved an issue that prevented the Windows Server inspector from completing if Server Roles could not be retrieved
Are you a Liongard Certified Professional?
Liongard Academy, our learning and resource center, and our Liongard Administrator Certification are live!
Our certification program is the quickest way to learn how to leverage Liongard to the fullest. Not only will you get a sweet new certificate to show off on LinkedIn, but it will also validate your automation expertise as a Liongard Expert!
Check out our other coursework, including "Introduction to Liongard" and "How to Write a Metric Learning Path." For more information on role-specific training, check out our Team Training documentation.
Sign up today at Liongard Academy.
As always, feel free to share any feedback or questions in the Liongard Lounge, our Slack community, in the #liongard-academy channel!
Liongard Library
Have you checked out the Liongard Library yet? Share custom Metrics and learn best practices from other Partners to get the most out of the platform. Access it in the Support drop-down menu in your instance.
Visit the Liongard Library today!
---